The original Morgan Funeral Home was established in Caribou in 1898 by G.M. Morgan. Morgan bought the establishment from Charles F. Ross, who owned a furniture and undertaking company located on Sweden Street. Although this building burned in 1903 it was rebuilt the same year. The firm constructed a new brick building in 1927 to house both the furniture and undertaking companies. That building is now the home of the Caribou Theaters.

In later years it was seen that a facility was needed to meet the needs of the growing number of families who needed a facility for visitations and funerals. A new funeral home was built in 1948 by two of G.M. Morgan's sons, Ralph and Clyde. The Morgan Funeral Home served Washburn, New Sweden, Stockholm, Woodland, Limestone, Caribou, Connor and Perham for more than 74 years until its purchase by Jack and Juanita Lancaster of Lancaster Funeral Home in 1972. Lancaster Funeral Home was established in 1950 at a Pleasant Street location in Caribou, by Jack Lancaster, a Houlton native and licensed funeral director. Lancaster Morgan Funeral Home has been at 11 Clover Street in Caribou since its purchase by Jack from the Morgan family.

In 1939 Harold K. Graves established the Graves Funeral Home on Church Street in Presque Isle at its present location. Upon Harold's retirement, his son Sidney K. Graves operated the funeral home until 1982 when it was purchased by Dick and Rick Duncan. At that time, Duncan Funeral Home of Mars Hill merged with Graves Funeral Home of Presque Isle to form the Duncan Graves Funeral Homes of Presque Isle and Mars Hill. Upon Dick's retirement in 2000, Rick Duncan operated the funeral homes in their current locations.

Doug Hunter purchased Lancaster Morgan Funeral Home on June 1, 2007, and Duncan Graves Funeral Homes in Presque Isle and Mars Hill on June 1,2012.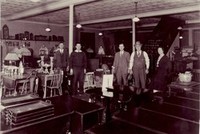 GM Morgan Funiture Co. (1930)